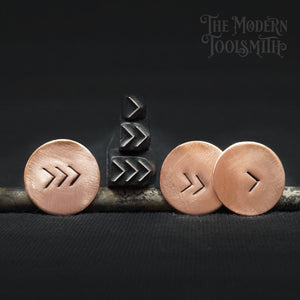 Save some dough and get all three chevron stamps together! This set comes with three stamps including the single chevron, the double chevron and the triple chevron stamp. All three chevron stamps measure 5mm high and each arrow is the same width so they can be used interchangeably to create repeating patterns. 
Designed to be used on silver, gold, copper, aluminum, brass, pewter, and bronze. Can also be used with Precious Metal Clay, Silver Art Clay, polymer clay and leather.

*Made to Order - Please allow 2-3 weeks for me to make your stamp*
**Due to the handmade nature of my metal stamps, there will be small variations in size, shape, and patterns on each stamp as the work is done by hand.